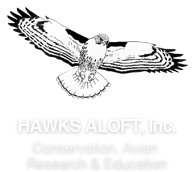 Ruidoso Public Library hosts Hawks Aloft, Wednesday, October 30 at 3:30pm, for all ages. Kids are out of school Wednesday afternoons; why not fill that time with this one-of-a-kind experience? To help introduce your students (grades 3-8) to raptors before the talk, visit
http://hawksaloft.org/education/for-educators/
for lessons and handouts on science, math, or geography topics related to the presentation. Try a lesson before to build interest and another after Halloween to continue the connection.
Hawks Aloft is an Albuquerque non-profit focused on conservation, avian research, education, and mitigations.
What are mitigations
? When birds and businesses use the same space, the Endangered Species Act, among other laws, outlines how to protect the livelihoods of all parties. Learn more about this, how to seek their assistance, and
how to help Hawks Aloft
during this presentation. You may have seen Hawks Aloft at the Festival of the Cranes in Socorro in past years.
Hawks Aloft
recruits citizen scientists
to help observe local raptor populations through HOOT (Hawks & Owls Observation Tracking Report) and raptor surveys. Check with the experts after the presentation at Ruidoso Public Library.
The
Lincoln County Bird Club
generously sponsored this visit by Hawks Aloft. HawksAloft.org lists their
ambassadors online
if you wish to preview them, though who will visit that day remains a surprise. The avian ambassadors are rescued, non-releasable raptors, often rehabilitated here in New Mexico.
Ask a librarian for assistance finding more information about raptors in the online Grzimek's Animal Encyclopedia or bird identification books on the shelves.