I didn't. Until I was poking around in the settings.
Voila! Here's the QR code to scan with your tablet or smart phone, if you'd like to catch up with these fun notes while waiting in line or just killing time.
The first step is to open this blog on your smartphone or tablet:
http://ruidosopubliclibrary.blogspot.com
/ Or, if you have already bookmarked the library's homepage on your device, select the "Library News" tab. Your device will automatically know to ask for the mobile version.
What's the point? I find I do less work on my mobile device, but love to read, especially blogs and Facebook. Sadly, I am too lazy to type (reply or interact) on my mobile, when I am far more interactive on a laptop or desktop. I have big hands; maybe I should explore more voice controls?
What does the blog look like on mobile?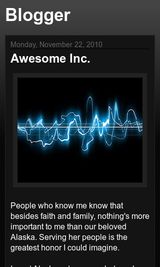 mobile version of blog
What is your experience with mobile technology? Do you see it around you yet? Are you up to three or more mobile devices? What could the library do to help you? (These questions might also show up in the little quiz widget at the bottom of the right-hand column in the desktop view.)
-introductory training sessions?
---ebooks on your smartphone?
---just how to use it at all?
-text message (SMS on cell phone) reminders when books are due?
I cannot guarantee we can host classes on every smartphone, but there are many similarities. And I am not sure about the text message notifications, since we have so many visitors and different phone systems. *But* if we hear a lot of interest for it, then I will have a reason to look into it. If you are interested in a class on how-to use your smart phone or tablet, please tell me (comment below or
email
) the type of phone you have (Apple, Android) or if you prefer tablet (and which brand).
P.S.: The Children's Department is looking for small plastic lids. They hope to include home-made car crafts this summer and need tires. Ideally the sturdy, similarly sized milk jug and juice lids, but not the flimsier, larger lids on butter tubs or mayonnaise jars.