This week is more than costumes and treats. Did you know the Very Large Array outside Socorro, NM, is looking for a new name? Anyone may suggest the name
here
.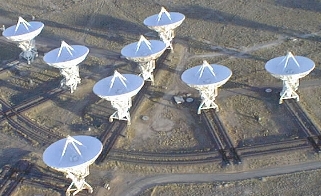 Image by NRAO at http://www.vla.nrao.edu/images/tightcenter.small.jpg
The VLA is 27 huge satellite dishes--you've seen them in movies like
Independence Day
and
Contact
. Here's your chance to be a part of history!
At Ruidoso Public Library tomorrow (Wednesday) Pre-School Story Time invites you to dress up and create these Owl Treats. I wish I were in Pre-School again, those look so yummy!
Then, on Thursday, everyone is invited to dress up for a Thriller dance downstairs @ 3:30 pm. The dance routine may begin closer to 4 pm.
If you'd like to read a little horror to build the holiday ambience, try DailyLit.com's
50 Word Frights
. Can you compose a spine-tingler in 50 words or less?